Discover more from ajanda
/ɑːʒɑːnˈdɑː/ a Turkish word for a journal to write down 'essential notes'. this 'ajanda' in particular is about what I read and see, and daily life things.
Tipped Issue #2
A Boy at the Hogarth Press & Virginia Woolf, the Vaults of the Metropolitan Museum of Art, Google Street View
Massive thanks to all of you who signed up to Tipped! Needless to say, I've been on cloud nine this week: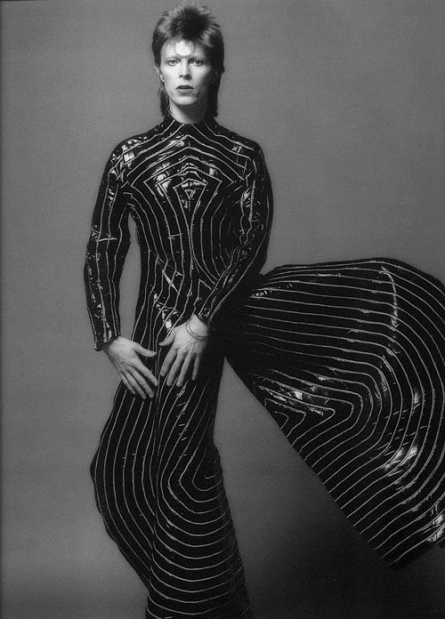 Hope you enjoy this week's topics. Let me know what you liked! 👁
---
Reading well
Since we launched Onlyherstory, an online history project that captures stories of 'ordinary' women in Turkey, which naturally requires delving into people's lives on a weekly basis, I have had noticeably much more joy reading memoirs. I am especially intrigued by the bellwethers in arts and culture in the 20th century.
One such figure is Richard Kennedy, and I devoured his memoir, A Boy at the Hogarth Press. Richard Kennedy was a book illustrator who died decades ago but most people know him from his brief time working at the Hogarth Press, the publishing house run by no other than Leonard and Virginia Woolf.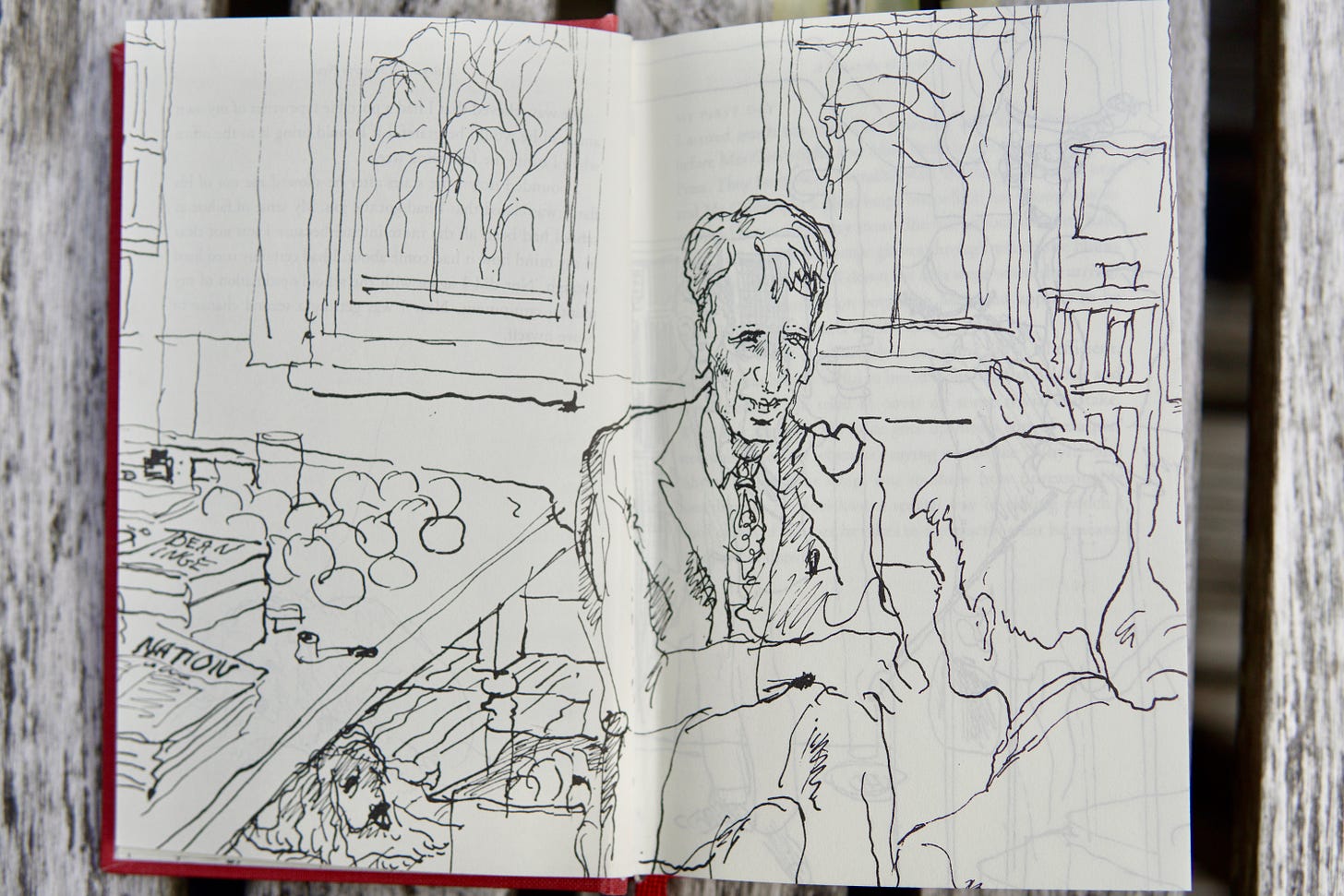 Richard Kennedy, Leonard Woolf and his Cocker Spaniel, Pinker
The memoir follows 16-year-old Richard, who left Marlborough College, and frankly, not good at school or anything else other than drawing. His uncle, who is an artist and architect, is part of the Cranium Club -rather too obvious of a name for a dining club for intellectuals- and knows Leonard Woolf is on the lookout for "a likely young man" to get behind the counter to learn the intricacies of publishing. In the beginning, it all goes great —I mean, imagine a world where Virginia Woolf sends you a lecture on Ibsen as she needs to go to a party or you are invited to their cottage in Rodmell, having strawberry & cream with the greatest minds of the century.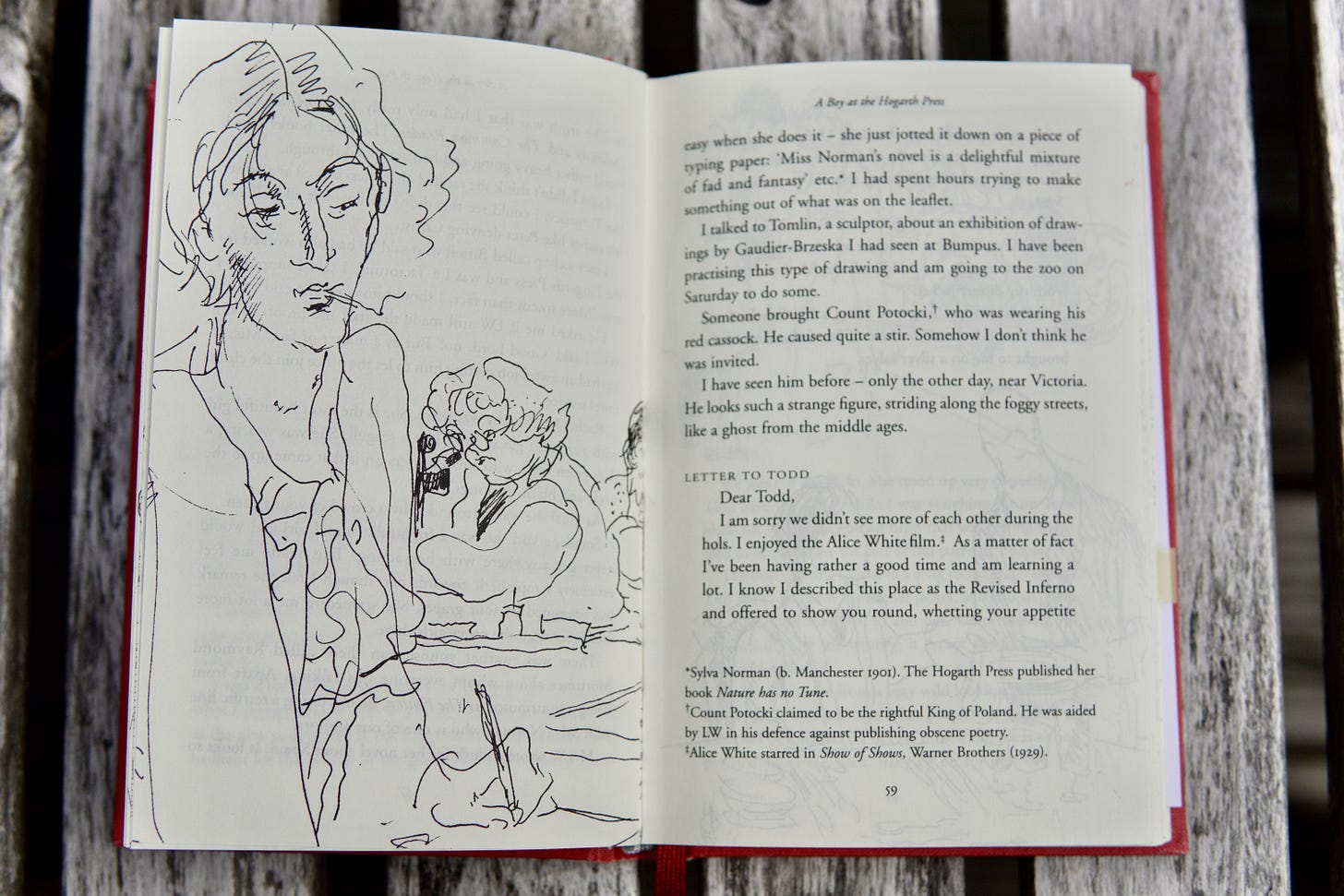 Illustrated by Richard Kennedy
Although Richard shows an aptitude for working the treadle printing machine and designing covers, his inexperience and inability to prove himself as an apprentice to LW eventually brings about his departure from the Press. Leonard thinks Richard is 'the most frightful idiot he has had the privilege of meeting'.
Yet, thanks to those two years spent there, we get to peek into how the Press was meticulously run those days, although VW states, 'it is like keeping a grocer's shop'. She is defined as 'rather cruel in spite of the kind, rather dreamy way she looks at you'. We see her working on her books, typesetting them herself, and the publication of Orlando and how it 'sells like hot cakes'; witness her happy moods if she is going to a party or walking round London, rolling her shag cigarettes. I don't know what else can constitute as the perfect apprenticeship other than this.
Here is the brief history of the Hogarth Press if you are a publishing aficionado and/or want to know more about the Press.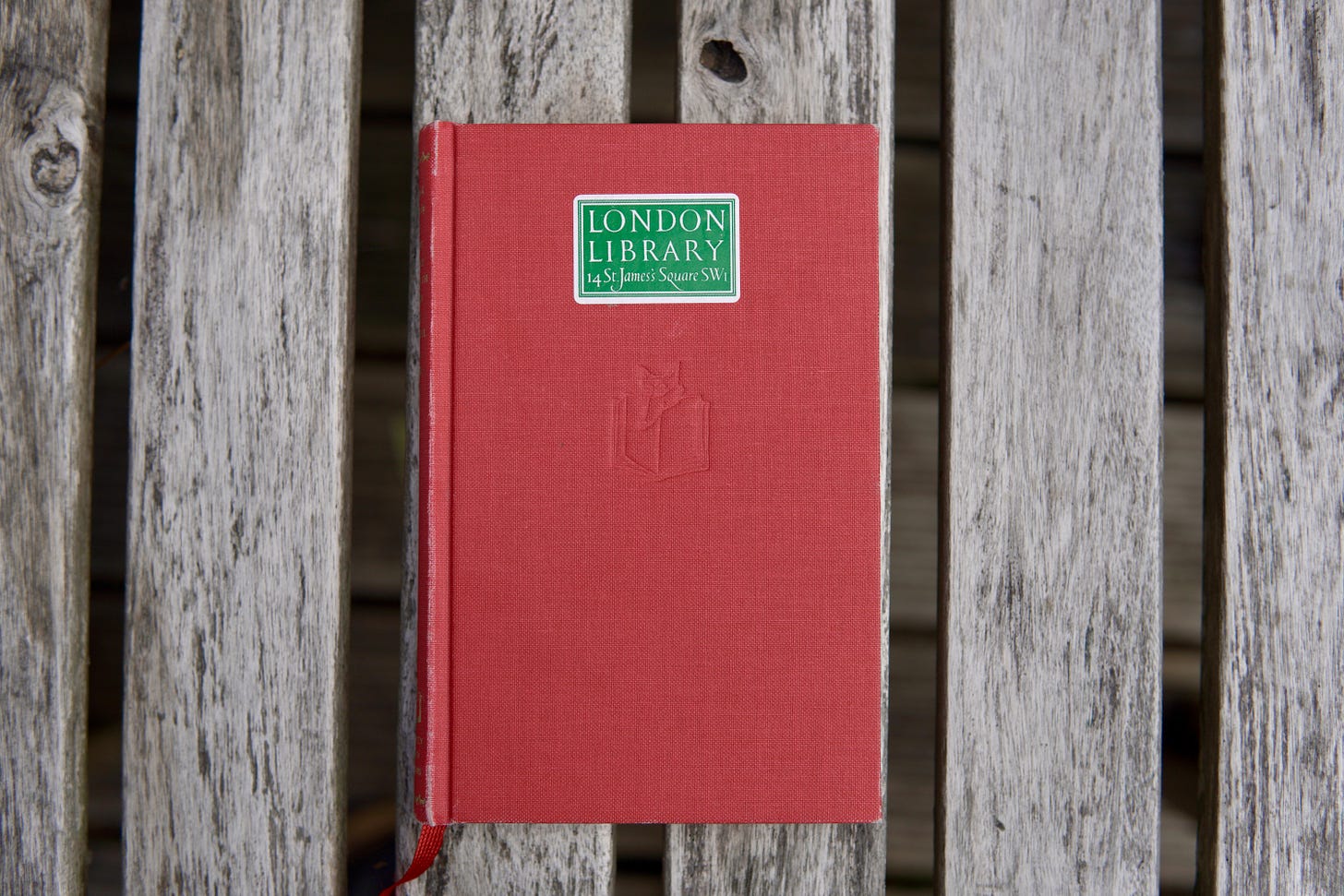 A Boy at the Hogarth Press & A Parcel of Time, Slightly Foxed Editions, 2008.
---
Gallery wall
When it comes to Youtube, my attention span pretty much ceases to exist unless I am watching Korean lifestyle videos (melting my brain), furniture making or illustration tutorials (melting my anxiety), or old footage capturing the bygone like The Metropolitan Museum of Art's 'From the Vaults' series.
What does being a curator mean? Five curators contemplate on this in the video 'Curators' Choices': It is being a communicator, custodian, interpreter, researcher, keeper or a detective. I suppose it is all of those in the case of Friedrich von Bothmer.
The cool halo of Dietrich von Bothmer, the Curator/Head of Greek and Roman Art, captivates you right from the beginning. He tells the story of how he paid a visit to a small art gallery in Paris, where he had seen nothing of interest the previous year. He arrives there and sees a little box filled with 'rather dusty objects', in particular, three fragments of Attic red-figure pottery. Subconsciously, he works out the drawing style, the period it belongs to.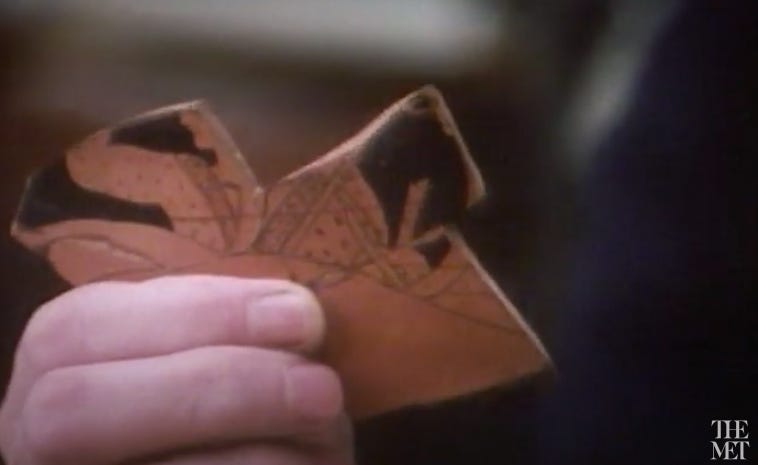 Then a curious pattern on the Archer's chest catches his eye, he knows he had seen this before. In a split second, he comes to the realisation that the fragment actually joins another that had been in Oxford since 1928. This marvellous discovery is followed by a verification (anticlimactic according to him), and a long-term loan agreement between Oxford (it is not clear where but maybe Ashmolean?) and The Metropolitan Museum. From Athens to Paris and Oxford, then New York by way of Dietrich von Bothmer, what is lost throughout centuries is united on a Saturday afternoon.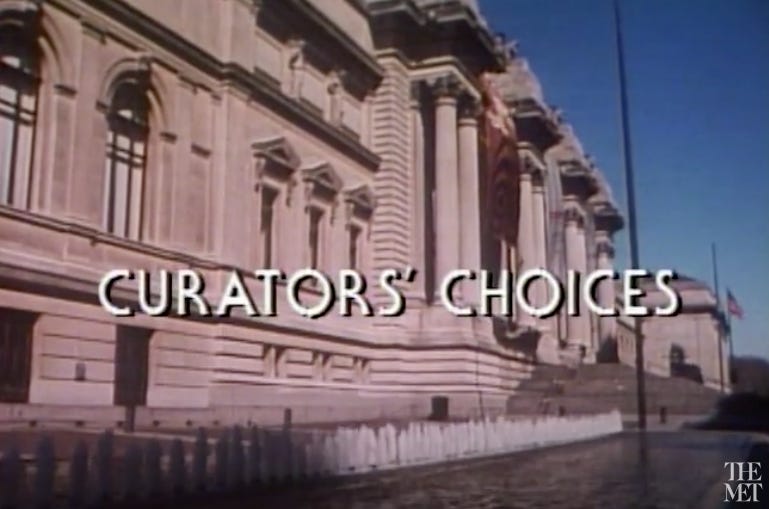 Interestingly, the rest of video centres around an exhibition in 1982, where the curators put together works of art purchased less than $5,000. It is not the price limit that is intriguing here, but the story of how the works of art were found/acquired by the Curators. As we see from von Bothmer, the process is all about seeing things in the right way, or perhaps beyond them, finding gems that are falsely labeled and (re)aligning them in the cultural axis.
Click here to watch the other videos The Met has made and collected since the 1920s.
---
Lost track of time
I am easing into online exhibitions, although I am aching to go to an exhibition in the flesh —I find it very soothing to be myself, wandering around the gallery, which I prefer to any social interaction.
Anyways, I couldn't keep myself from watching the slide show of Google Maps images captured by Jon Rafman over a decade. Exhibited at Sprüth Magers, 'Nine Eyes of Google Street View' is curated by Rafman, dubbed 'a flâneur of the 21st century', with an accompanying text by the novelist Ned Beauman. However, I must say I was not guided by my love for art, but curiosity to select the most batshit crazy image. I am sure you will pick one yourself.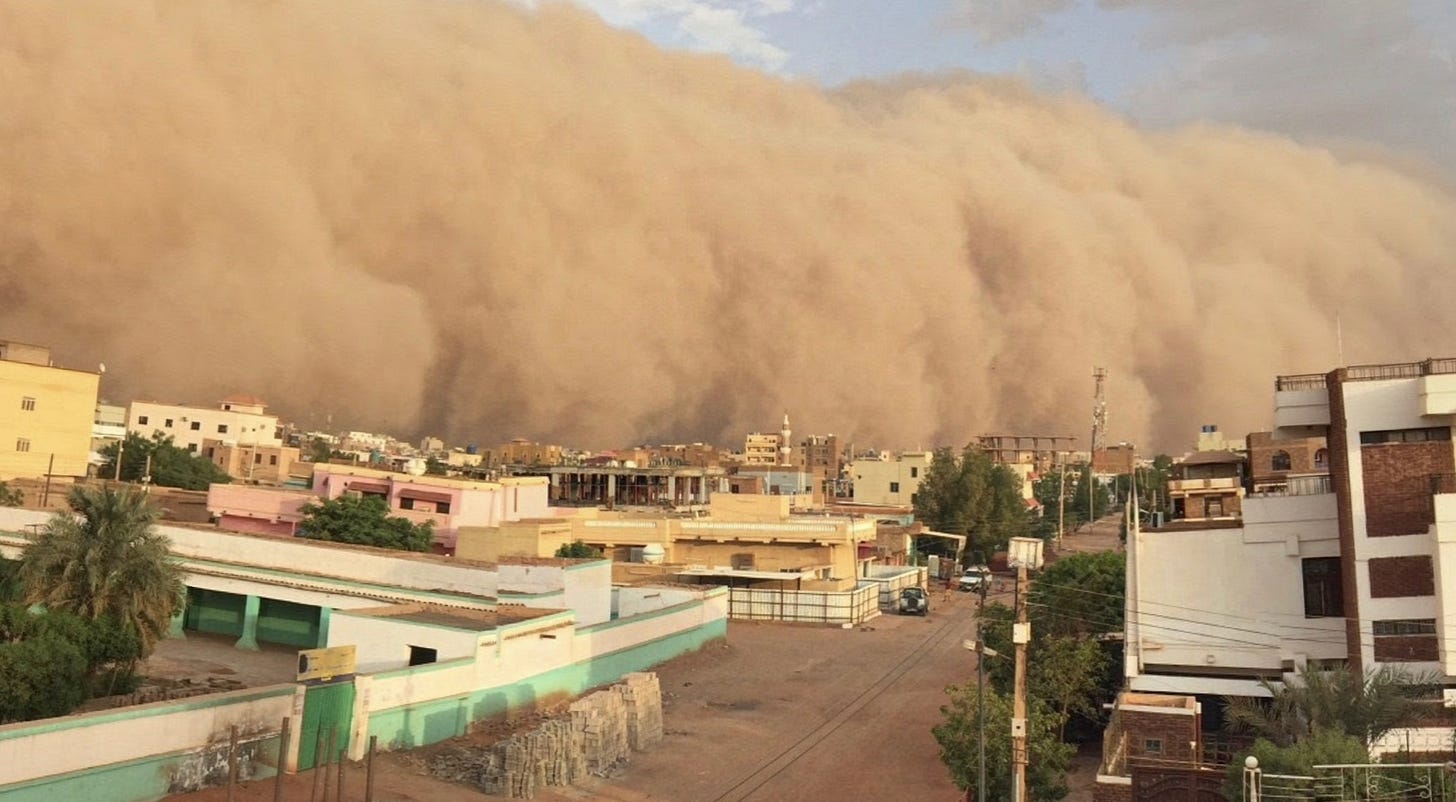 A disaster movie starring John Cusack or Gerard Butler.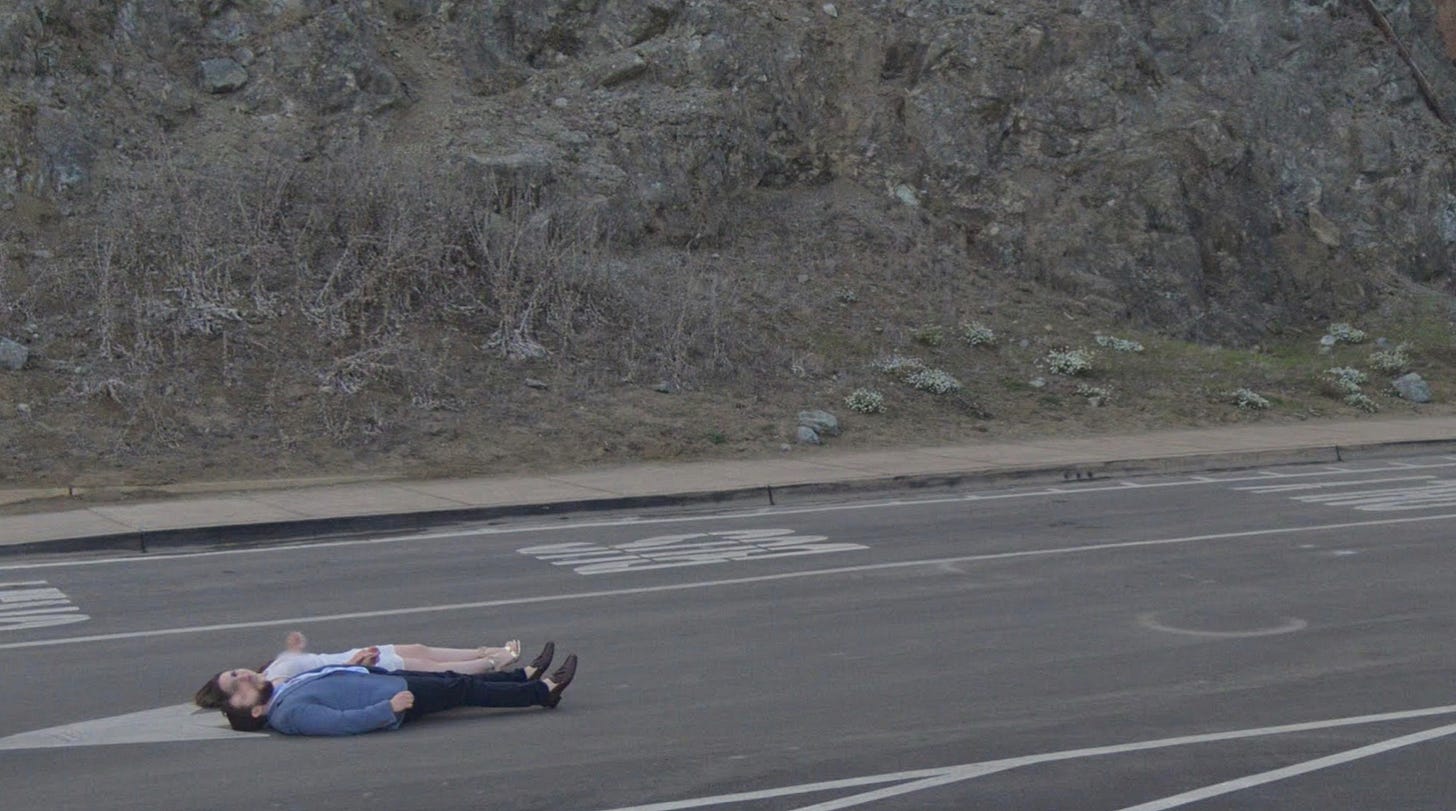 A scene from the blockbuster film Inception.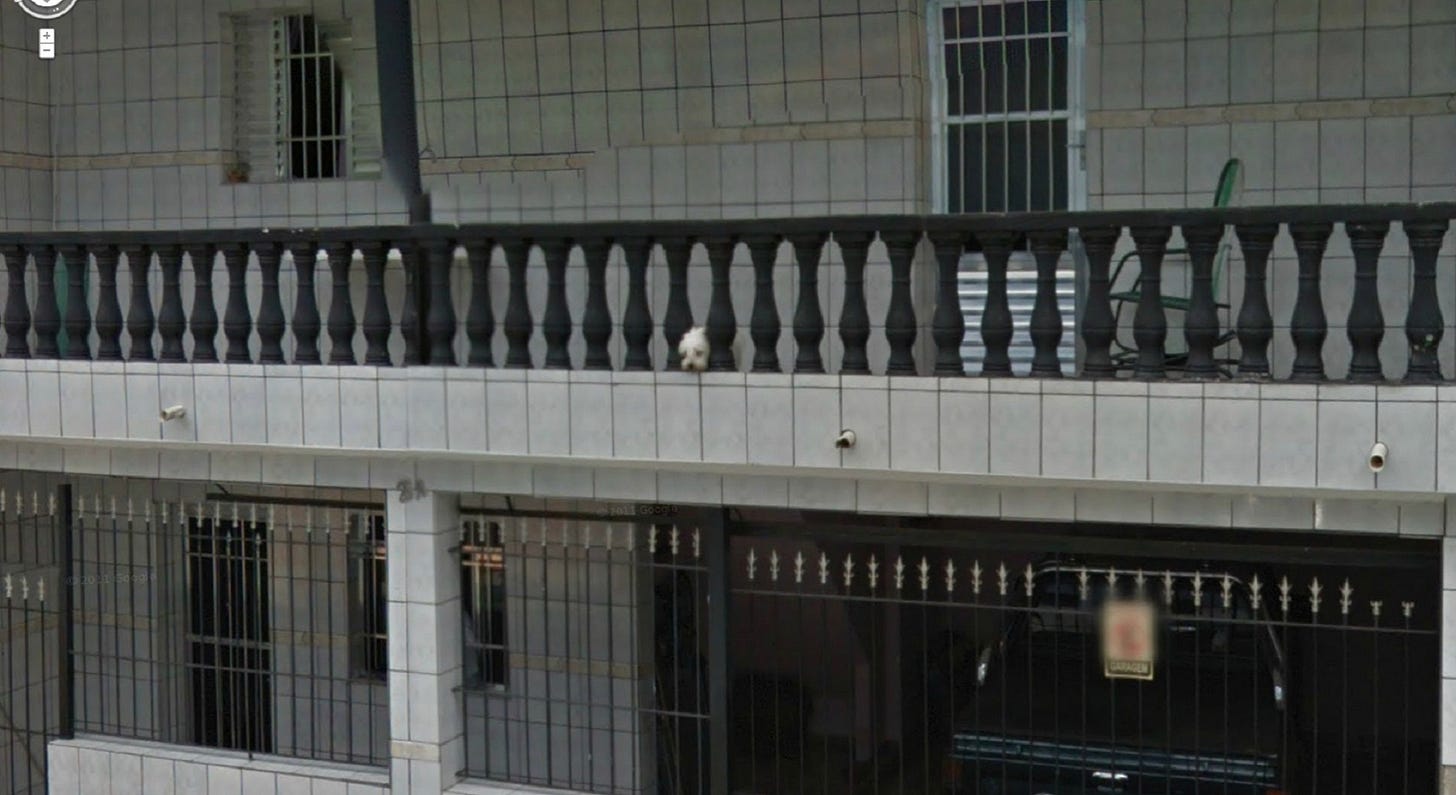 My life: a summary.
---
I was off from work this week, so I was able to think about how I could share more, especially via Twitter, which is still a mystery to me. I'll do my best to share stuff that I end up not using for Tipped, like these:
Have a great weekend! 🤓📚